Location
The sparsely populated South Island of New Zealand hosts Kincaid Cottage:
Two and a half hours drive from Christchurch International Airport.
Two hours drive from the inter-island ferry terminal of Picton.
An hour drive from Mt Lyford ski field.
One and a half hours drive from Hanmer Springs thermal resort.
6 kilometres north of the Kaikoura township on State Highway 1, you will see the Kincaid Lodge sign and driveway on the mountain side of the road with a wine barrel letterbox.
Kaikoura is also accessible by small plane and rail service.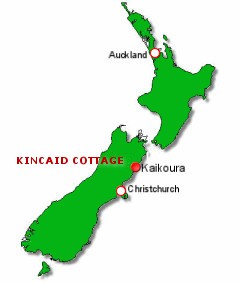 View Kincaid Cottage in a larger map
Once the largest run in the Kaikoura district, today Kincaid is a small dairy support farm.